From Failing Hands...
Words & Photography by Glenn Warner
The Dead, in McCrae's famous poem, have implored us not to break the faith. They lie buried, for their travails, eternally. But is it possible to remember eternally? Will we break the faith?
Ypres, the Somme, Vimy, Passchendaele, Arras, Cambrai, Mons — how few of us today have heard these names. On the written page they are unpronounceable. Spoken, they are not quite words, just sounds, floating in the back of our heads, unconnected to our modern sensibilities. For a generation that can connect within milliseconds to all the world's knowledge from the comfort of a living room on Fogo or Saltspring Island, no wonder it is impossible to grasp the traumas of a bygone generation that had barely harnessed electricity.
Those of us who do recognize the names, may not even know what country they are in. For most of us it's impossible to grasp what those Canadian kids went through 100-odd years ago. No wonder it's tough to remember. Remember what?
So we're forced to remember — because we can't possibly grapple with the grim nature of their ordeal — that there was an event, that they did do something, that war is hell, that we should be remembering. We think it was for the good, we think it was for Canada, we think it was for democracy, we may even think they made our lives better. But there is no connection to it. There's no face on it. Nothing to personalize it.
"The First World War" rings a faint bell and conjures up notions of European Empires in pitched battle. But it has little to do with us; until those old family pictures brought out at Christmas give us vague recollections that grandma's brother was killed in some distant war in some distant place called the Somme. But what's the Somme and what was a Canadian kid doing there?
Stand on the Somme and you'll find out.
You must remember this...
*****
An unknown Canadian soldier rests for eternity in Courcelette British Cemetery on The Somme. (More on the Battle of Courcelette here.)
*****
This caribou sculpture representing the Royal Newfoundland Regiment is inside the Beaumont Hamel National Park of Canada on The Somme, France. The caribou stands vigil over the Somme killing fields of 1 July 1916. (More on the Fighting Newfoundlanders here.)
*****
The Somme — Adanac Cemetery. (Adanac is a reversible anagram for Canada.)
*****
The Somme - New Munich Trench Cemetery.
*****
The Canadian monument to the missing on Hill 145, Vimy Ridge, France.
*****
Cabaret Rouge Cemetery, near Vimy Ridge.
*****
Vimy Ridge, France.
*****
A note, memorializing 6 Canadian soldiers killed in Afghanistan the day before, was left in the bosom of Canada, Vimy Ridge monument.
*****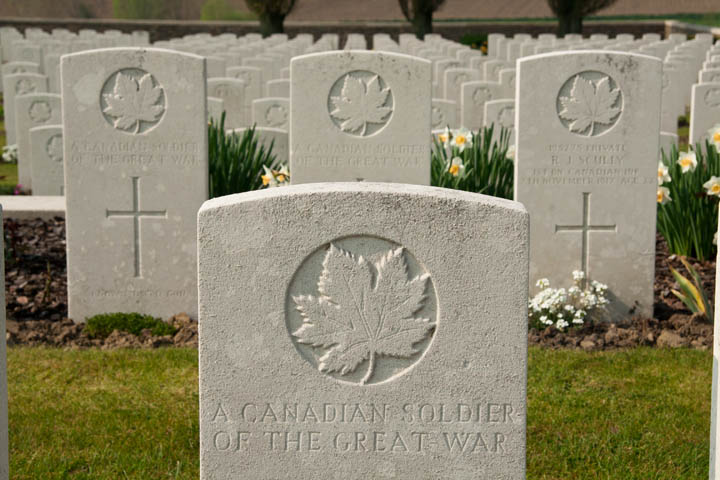 Passchendaele Cemetery, near Ypres, Belgium.
*****
Passchendaele Cemetery, near Ypres, Belgium.
*****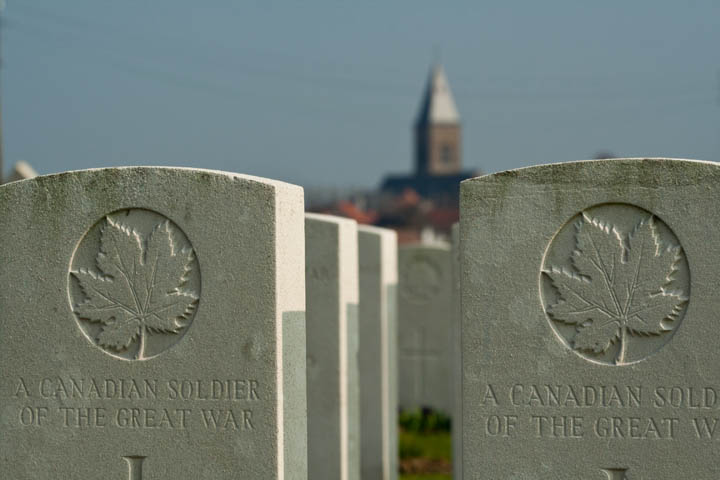 Passchendaele Cemetery, near Ypres, Belgium. The village of Passchendaele in background.
*****
Passchendaele Cemetery, near Ypres, Belgium.
*****
Passchendaele Cemetery, near Ypres, Belgium.
*****
The Menin Gate in Ypres, Belgium, commemorates Remembrance every day of the year with a vigil held at 8pm nightly. The Monument is a Memorial to the British and Commonwealth soldiers who fought in the Ypres Salient and have no known grave. Its walls are engraved with the names of 55,000 missing soldiers, 7,000 of which are Canadian. The Commonweath sustained approximately 430,000 casualties during its 4 years in the Salient. The population of Ypres was only 17,500.
*****
A Belgian policeman holds traffic from entering the Menin Gate in Ypres, Belgium, during the nightly Remembrance ceremony. Note the Canadian flag in the building in the background.
Words and Photography by Glenn Warner
www.glennwarner.ca

More Glenn Warner photography on The Great War can be found here.